IC name: Honkles the Anti-Smoking Clown
Byond Key: Qfmysteryman23
date of ban: 10/18/2020
Duration of ban: 3 months
Admin byond Key: Ansome
Reason for ban: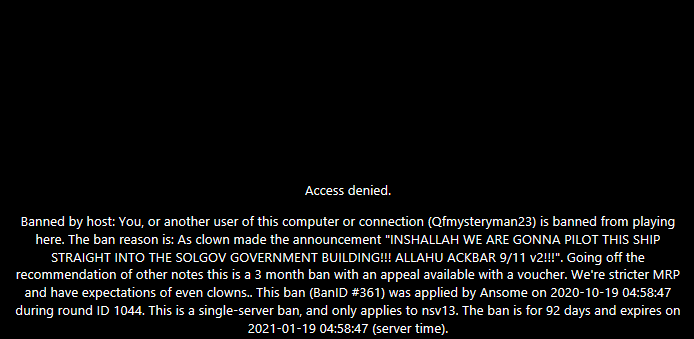 Ban Appeal: After reading the server rules, I can't find anything that says "distasteful humor" is a bannable offense. Because I was also playing a clown, I don't see how my behavior was considered "LRP" when the clown is allowed to have some ease of restrictions when it comes to RP conduct. And don't say distasteful jokes are "lrp" because people say shit like that in real life… which I would assume real-life to be something along the lines of extreme Roleplay. If what I said is would also be considered "creepy" then anything a person says can be creepy. That rule is so mind-bogglingly vague, you can literally say anything is creepy and then ban someone. But off to
but off to the inevitable point that one of you will bring up that will be something along the lines of me having bans on other servers. Sure that's true, but for the most part majority of my bans have been bullshit. mostly bullshit caused by Fulpstation.
But to explain all that we must first dive back in time to the year 2019.
At the time I was a big fan of the game Barotrauma, and a guy from the server I was in told me about ss13. For reference, this actually took place a couple of weeks before SSeth posted a video about ss13. I tried it out and started to really like the game. the first server I ever Joined was Fulpstation. The server was pretty neat, and relaxed and had a lot of cool people. But there was a dark side! One of the Head Admins(SSgogeta) was a Furry and I made fun of him on discord for it, and because of that; He had a personal vendetta towards me. He was also just a shitty admin. He would ban bait people, he would say racist shit in chat and try to get other people to say racist shit and then ban them for saying racist shit. He was the epitome of the term Shimin. But what caused me to get my first permaban was because as the captain, I killed the chaplain for injuring the HOP and stealing the budget card and his id so he could spend the entire stations money on buying the arena shuttle. Can you guess why they banned me? This all took place when fulp was lRP. Turns out, ssgogeta and the shitter chaplain were metafriends IRL and thats why he banned me. blah blah blah 3 months later Gogeta gets banned from Fulpstation for harassing a female player and the other admins decided to give me a chance and unbanned me. For months I played without getting in any serious trouble, when I did it was for minor shit or for misunderstandings. But since notes are not removed, when I got my second perma ban, No one cared to even let me explain. what happened was I was a vampire and I killed someone at round start so that I could get my objectives done as quick as possible. The admins bwoinked me about it and I said sorry and every thing seemed to be fine until the next round I get a fat massive perma ban for "murder bone" when I only killed one person that round as I got murdered pretty quickly after that whole round start murder situation. Im not gonna even explain my 3rd perma ban from fulpstation because it was so mind numbingly retarded that it makes me want to die. (FYI I can probably get some people to vouch for me about how fucked up fulpstation has become, this includes former staff members who left the server because it became so shitty.)
Now lets talk about the beestation situation. To make this quick ill list the ban and then a quick response to it.
As a borg with laws stating to Kill All CULTISTS I gibbed a former cultist with the gulag shuttle because I didnt know they got deconverted.

As the HOS, I said over comms that I was gonna shit in peoples mouths if they kept committing crimes. People kept commiting crimes and thus I took shits in peoples mouths. An admin thought it was ERP but the other admins realized that it wasn't so I got unbanned.

I boh bombed the evac shuttle on accident because even after the shuttle docked with the centcomm station, lag made the round end sign pop up later than normal. Luckily no one died from the explosion and I got unbanned.

I boh bombed the evac shuttle after changelings took over and tried hijacking it. They managed to kill almost everyone on the shuttle except me because I played dead. But as they were not looking I took the Boh bag off my dead sec partners back and ran towards them and suicide bombed. The majority of people thought it was based and heroic that I sacrificed myself to stop the changelings from reaching central command but the admins thought it was grief. Later on, most admins decided that my actions were justified and I got unbanned.

As an engineer I dusted myself at round start and almost caused delamination. It was really late at night and I had been smoking a ton of weed and in that altered state of mind, I didn't care about the consequences of my actions. This ban was probably the most justified out of any.

I blew my self with a BOH bomb to kill a cultist. This took place 20 seconds before the round ended as I and the cultist got left behind on the station after everyone already evacuated. He chased me and started to hit me and wound me but I got into science and printed an extra BOH bag and chased him and tried killing us both. It didn't work and I was the only one who died. For some reason, this became the justification for my permaban on Beestation. Mostly because Bloons3 probably was looking for any reason to ban me after I made a staff report about him.
Conclusion: My recent ban has been an injustice and history will clear me of all wrong doings.